NEYMAR MAKES RACISM CLAIM AS PSG LOST 1-0 IN LE CLASSIQUE
Written by thrilliant on September 14, 2020
Neymar claims he was subject to racist abuse after sent off for striking an opponent in the back of the head as tempers heat during Paris Saint-Germain's 1-0 loss in Le Classique on Sunday.
A full-scale brawl broke out on the pitch in the last minute of stoppage time, forcing referee Jerome Brisard to send off PSG's Laywin Kurzawa and Leandro Paredes as well as Marseille's duo of Dario Benedetto and Jordan Amavi.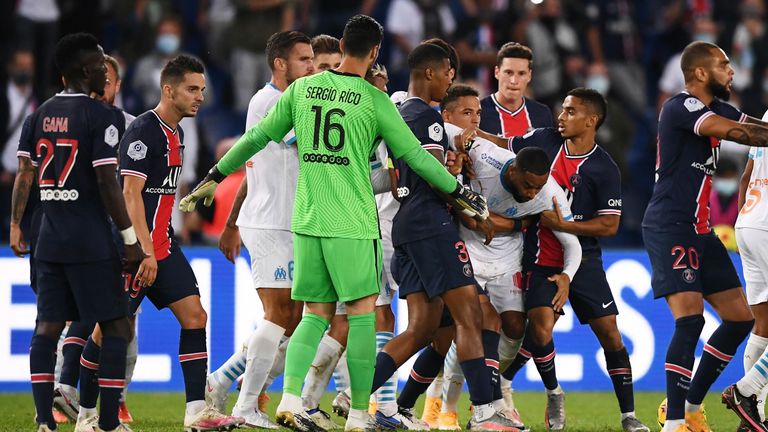 Neymar then also sent off for striking Alvaro Gonzalez in the back of the head. Having had several incidents with the Spanish defender previously in the game.
On leaving the pitch, Neymar was heard by pitchside microphones claiming to one of the match officials he was racially abused on the pitch.
Neymar tweeted after the game, saying his "only regret" was not hitting Marseille defender Gonzalez in the face.
He later posted: "It's easy for VAR to capture my aggression. Now I want to see it capture the footage of the racist calling me a monkey son of a b****. That's what I want to see!
"I do tricks and I get punished. A tap on the head and I get sent off. What about them?"
No existe lugar para el racismo. Carrera limpia y con muchos compañeros y amigos en el día a día. A veces hay que aprender a perder y asumirlo en el campo. Increibles 3 puntos hoy. Allez l'OM💙 Gracias familia⚪️Ⓜ️🙌🏼 pic.twitter.com/4DuUT1PT0x

— Álvaro González (@AlvaroGonzalez_) September 13, 2020
Gonzalez strenuously denied the accusation on Twitter, insisting there is "no place for racism" and he has had a "clean career".
In a reply to Gonzalez's tweet, Neymar wrote: "You're not man enough to own up to your mistake, losing is part of the sport. Insulting and bringing racism into our lives isn't.
"I can't agree with that. I DON'T RESPECT YOU! YOU HAVE NO CHARACTER! Own up to what you say my brother … be a MAN! RACIST."
---