"My Husband Is The Best Husband Ever"- Meghan Markle
Written by thrilliant on June 19, 2018
Clearly, Meghan Markle is still very much in the "butterfly" phase with her husband, Prince Harry. The new Duchess of Sussex, 36, joined the Queen at a series of events in England on Thursday June 14 and couldn't help gushing over her new husband during a meet-and-greet with fans.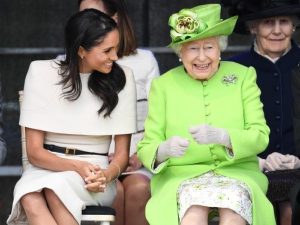 In a footage filmed by members of the crowd and shared on Twitter, Meghan was heard speaking to a woman who asked her how she was enjoying her new life with Harry. Meghan replied:
"It is wonderful, I'm really enjoying it"
The woman then told her to "give our love to Harry", to which the Duchess said:
"I will do. That means an awful lot to us. He's the best husband ever."
The decision by Queen Elizabeth, 92, to invite the Duchess to join her — less than a month after her wedding to Prince Harry — shows the royal family has no hesitation in using the confident and poised Meghan for public appearances.
The Duchess of Sussex and Former Suits actress got married to Prince Harry on May 19,2018 and she is clearly loving married life as she told well wishers her other half is the "best husband ever".
---